Search Results for: how website cover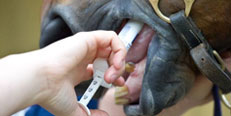 Well CareVaccinations, Deworming, Floating, and Nutrition Learn MoreSports MedicinePRP, IRAP, Lameness Exams, and Shockwave Therapy Learn MoreSurgeryPurposely Planned State-Of-The-Art Surgical Facility Learn ...
Developing a disaster response plan for horses requires additional thought and creativity. There are many things to consider: food, water, transportation, medical ...